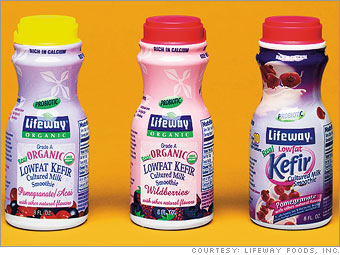 Lifeway Foods, a company founded in 1986 by Ukranian immigrants to the United States, has succeeded in selling kefir, a probiotic drink originally founded thousands of years ago in Eurasia that is often compared to yogurt, to the tune of now almost $100 million in revenues yearly in large part due to social media, according to an article on Mashable.
Way before social media and in the early stages of the company's existence, the owners told their story of leaving their former homeland in the 1970s through "a crease in the Iron Curtain" for entrepreneurial reasons  to a U.S. audience that was fascinated by all things Soviet.  When social media started, the company felt it could "tell it story on its own terms" and signed up for My Space in 2008, and Twitter and Facebook in 2009.  They are on Instagram and have a Pinterest board highlighting the Smolyansky family's and Lifeway Foods' journey.
The now deceased founder of the company, Michael Smolyansky, bought a URL for kefir.com before his death 11 years ago which redirects one to the Lifeway Foods website.  The company now has a social media staff of five individuals, 55,000 Twitter followers and 160,000 "likes" on Facebook, the two latter which Mashable considers a remarkable number considering the relative obscurity of the product line.
Kefir, which means "good feeling" in Turkish, is made by adding Kefir grains or a mixture of yeast and appropriate bacteria, to mostly any kind of milk for approximately 24 hours.  At that point, it is "fermented and slightly carbonated."  It can then be consumed or even allowed to ferment further for a more tart taste. Lifeway Foods also produces farmer cheese and cream cheese.